NABERS accreditation number: 90063
NABERS is short for National Australian Built Environment Rating System. It is a national rating system that measures the environmental performance of Australian buildings, tenancies and homes. Put simply, NABERS measures the energy efficiency, water usage, waste management and indoor environment quality of a building or tenancy and its impact on the environment.
It does this by using measured and verified performance information, such as utility bills, and converting them into an easy to understand star rating scale from one to six stars. For example, a 6 star rating demonstrates market-leading performance, while a 1 star rating means the building or tenancy has considerable scope for improvement.
For over ten years, NABERS has helped property owners, managers and tenants across Australia to improve their sustainability performance, reaping financial benefits and building their reputation.
NABERS is managed nationally by the NSW Office of Environment and Heritage, on behalf of Commonwealth, state and territory governments.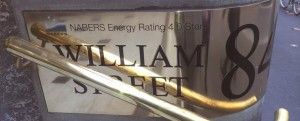 Every building has an impact on the environment. In fact, buildings use 40% of the world's energy, emit 40% of the world's carbon footprint, and use 20% of the world's available drinking water. Fortunately, we're becoming better at understanding how we can make buildings more energy, waste and water efficient. The first step is to really understand the environmental performance of a building or tenancy.
In Australia, if you own, manage or occupy a building, a NABERS rating can provide you with a simple indication of how well you are managing these environmental impacts compared to similar buildings.
Once you understand the environmental impact of your building or tenancy you can begin the journey to making your building or tenancy more sustainable.
NABERS tools
NABERS provides four environmental rating tools – NABERS Energy, NABERS Water, NABERS Waste and NABERS Indoor Environment – to measure the actual operational performance of existing buildings and tenancies.
NABERS can be used to rate commercial offices, shopping centres, hotels and homes.
NABERS ratings for offices can be used to measure the performance of a tenancy, the base building or the whole building. The tenancy rating includes only the energy or resources that the tenant controls.  A base building rating covers the performance of the building's central services and common areas, which are usually managed by the building owner.
A whole building rating covers both the tenanted spaces and the base building, and is typically used in an owner-occupied building, or where there is inadequate metering to obtain a base building or tenancy rating.
| | | | | | |
| --- | --- | --- | --- | --- | --- |
| | Offices | Hotels | Shopping Centres | Data Centres | Homes |
| Energy | yes | yes | yes | yes | yes |
| Water | yes | yes | yes | – | yes |
| Waste | yes | – | – | – | – |
| Indoor Environment | yes | – | – | – | – |
NABERS is a world leading program
The NABERS approach to rating the environmental performance of buildings is world leading and unique.  It takes real, measured impacts and communicates these in a clear and simple way.
Through NABERS, the Australian property industry has a credible standard to confidently communicate results, and to judge environmental initiatives by their actual results in star ratings.  NABERS ratings are used throughout the property sector to drive deep cuts in environmental impacts, and evaluate the real results of initiatives.  NABERS star ratings are now common language.
This deep knowledge of building performance and potential for improvement has transformed the Australian property industry, which is now acknowledged as an international leader in the greening of buildings.  It has led to a real, measured and significant reduction in environmental impact.
Each of the NABERS tools has been developed to:
provide a credible and independent market-based benchmark
communicate environmental performance through a simple star rating
drive best practice through setting stretch targets meet the needs of industry, and
achieve real positive environmental outcomes.
Accredited rating
An accredited NABERS rating is performed by a NABERS Accredited Assessor.  Assessors are trained in the use of the NABERS rules for data collection and analysis, have passed an examination and are subjected to ongoing quality control checks.
If you wish to report or promote your rating performance, you will need an accredited rating.  Accredited ratings are reliable, and can also be used to comply with Commercial Building Disclosure (CBD), or to meet commitments under CitySwitch.
In short, the Commercial Building Disclosure requires a building owner selling or leasing office space with a net lettable area of 1,000 m2 or more a NABERS Energy rating for the building, an assessment of tenancy lighting in the area of the building and general energy efficiency guidance. This information is provided as a Building Energy Efficiency Certificate (BEEC)
A NABERS accredited rating delivers demonstrated financial benefits, such as reduced operating costs, increased value, increased rental income and reduced vacancy rates.
Provides market recognition and a competitive advantage for building owners and tenants who operate in an environmentally efficient manner. NABERS gives companies the confidence to promote their building performance with reputable government certification.
Helps to create a better work environment for employees which has positive benefits for any company.
Can help landlords to meet tenant expectations for greener buildings and workplaces, in particular government tenants who require a minimum 4.5 star ratings or 5 star in South Australia. Under the GREP requirements in NSW  it will be 5 stars from June 2020.
Provides a credible, independently verified means for benchmarking and monitoring actual improvements in performance.
Encourages best practice, by providing realistic but aspirational benchmarks that encourage owners and tenants to minimise their environmental impacts.
Can help to identify cost saving opportunities over time and across a portfolio – property owners can use NABERS to inform them of the performance of buildings across a portfolio and, through targeted resource allocation, better manage their impacts on the environment.
Buildings with a 1 to 3 star rating will often have significant, cost-effective opportunities to improve, and to achieve energy and water savings.
Frequency of rating a building or tenancy
A NABERS rating reflects the environmental performance of a building or tenancy over the past twelve months.  An annual rating allows you to keep track of performance, measure the impact of any actions taken, address issues and make improvements, as well as setting targets for each year.
Benefits of NABERS – sustainable buildings and tenancies
Through the widespread use of NABERS, the Australian commercial property industry has gained a reputation as leading the world in the greening of its buildings and tenancies. Buildings with high NABERS ratings are now valued in the marketplace, attracting higher valuations, and enjoying lower operating costs.
NABERS is unique internationally in its approach to measuring the environmental impacts of buildings. It is the only environmental rating tool that provides a reliable benchmark of the actual environmental performance of a building compared to other Australian buildings.
Today, annual NABERS ratings are an essential component of the building management cycle for most commercial property portfolios. A high NABERS rating is recognised across the property industry as a symbol of sustainability leadership and good management.
A NABERS rating allows businesses to improve operational efficiency and productivity, demonstrate their commitment to protect and conserve the environment as well as optimise the triple bottom line – financial, social and environmental outcomes.
The NSW Government launched an updated version of its Government Resource Efficiency Policy (GREP). The energy efficiency requirements for leasing office buildings to the NSW Government has improved from 4.5 to 5 stars NABERS Energy, from June 2020.
Benefits for new office building developments and tenancies
New office buildings designed and built with sustainability in mind are able to attract and retain tenants who value good environmental performance.
A NABERS Energy Commitment Agreement ensures that future performance is considered from the design phase, reducing base building energy costs over the life of the building in a market of rising energy costs.
It also enables developers, building owners and tenants to promote and market excellent greenhouse performance whilst the building is being designed, constructed and leased. So you can use NABERS to market your environmental performance from day one of the development process.
For more details please visit the NABERS website
NABERS Home self assessment click here
or contact us at info@etatec.com.au